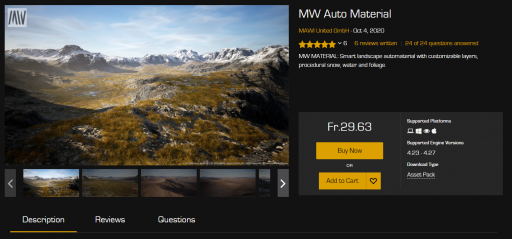 Documentation:
Online Documentation
A
smart landscape automaterial
setup with 5 custom layers, use any textures and 3d foliage. Made for
quick prototyping
and
high performance
. Distance blending reduce tiling, including variation texture, full landscape color map. Also included a
procedural cloud, water
and
snow system
. Comes with seven photoscanned ground textures and
procedural foliage
.
Bake procedural layers to textures
, use them with landscape layer materials like
MWLandscape Material
. Included also two background mountain meshes. The material is modular and customizable, just plugin your textures and go! Need more foliage and functions? Get our
MW Interactive Foliage
or any of our other packs.
FEATURES [1.2.0]:​
Smart landscape automaterial
Customizable landscape layers
Bake layers to textures (1k/2k/4k)
Procedural snow & water layer
Procedural foliage placement
Procedural cloud system with shadows
Distance blending controls
7 free photoscanned ground textures
Background mountain meshes
Two 2x2 km example landscape
Technical Details​
VERSIONS:​
V1.2.0 is available in UE versions 4.26 and above
V1.1.0 is available in UE versions 4.23 to 4.25
Full change log is available in our
Discord Channel
.
​
ASSET LIST [1.2.0]:​
Blueprints: 1
Landscapes: 2
Background Mountains: 2
Rocks: 8
Grass: 4
Ground Materials: 7
Cloud Materials: 3
Material Functions: 11
Physically-Based Rendering:
Yes
Texture Size:
The majority of assets use 4096x4096 base color, normal, and utility textures
Collision:
n/a (Landscape)
Vertex Count:
n/a (Landscape)
LODs:
n/a (Landscape)
Number of Meshes:
16
Number of Materials and Material Instances:
32
Number of Textures:
31
Intended Platform:
PC
Platforms Tested:
PC
DefaultEngine.INI:
MWAM Default Settings
(4.26)
For direct support join our:
Discord Channel