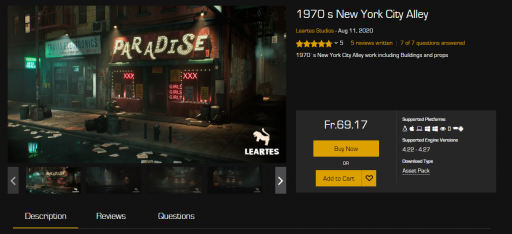 1970`s New York City Alley work including Buildings and props . Made by Environment Artist Victor Ullmann . You will find Building parts . Props , Roads and more Assets in this pack to create your NYC City Alley or make additions to your existing levels .
Showcase Video
Disclaimer:
Due to a known engine bug with vertex painting, a warning may be displayed about spending 0.0s repairing painted vertex colors. This warning can be removed by manually resaving the level.
Here you can join
Leartes Asset Platform Discord Server ( Cosmos ) to get discounts.
Technical Details​
Features:
High Attention to Details
High Quality
Unique Concepts For Assets
Number of Unique Meshes: 115
Collision: Yes
LODs: Yes
Number of Materials and Material Instances: 122
Number of Blueprints : 3
Number of Decals : 66
Number of Textures: 283
Texture Resolutions: 1K , 2K
Supported Development Platforms:
Windows: Yes
Mac: Yes
Supported Engine Versions : 4.22 , 4.23 , 4.24 , 4.25+