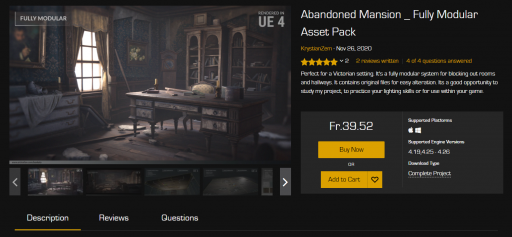 This product offers a set of assets perfect for realistic Victorian setting. It includes a fully modular system with instructions on how to quickly block out rooms with curved corners, ceiling, floor, doors and windows. It also consists of the original files such as my 3Ds Max, UE4, Substance Painter and Substance Designer files for easy alteration. Its also a good opportunity to look into how I've set up my project, to practice your lighting skills or for use within your game / project.
Preview video:
https://vimeo.com/382587922


Program Versions:
- Unreal Engine 4.19.2
- 3Ds Max 2019
- Substance Painter 2018 2.3 or newer
- Substance Designer 2018 2.2 or newer
DISCLAIMER
*This product only contains automatic LODS*.
Technical Details​
Features:
Fully modular set of assets designed for easy production of Victorian room interiors.
Contains all the original files for easy alteration.
Contains all assets necessary to create a compelling Horror mansion scene.
Number of Unique Meshes: 93
Collision: Yes (Automatically Generated)
Vertex Count: ~250k (multiple rooms fully furnished)
LODs: No
Number of Materials and Material Instances: 12
Number of Textures: 67
Texture Resolutions: 2048, 1024, 512
Supported Development Platforms:
Windows: Yes
Mac: Yes
Documentation: Inside a Read_Me file
Important/Additional Notes: Staircase is not modular.