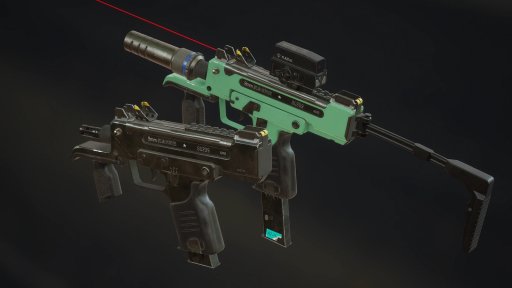 This pack includes 13 guns and 19 attachable parts with a blueprint system, Customizable Loadout system, Inventory system & Customized skin system.
Update 1.2 Note
-RPG 27 (Rocket Launcher)
-VSS (Sniper)
We are gonna adding new weapon to the pack and we are all ears for your suggestions.
Technical Details​
Features:
Blueprint functionality for laser, Attachment.
Skin system with animation features.
Interactive Customization Loadout.
Inventory System + Pick up and drop.
Inventory drag and drop feature.
Widget map to showcase all the functionality.
Sight master materials setup with easy to change recitals.
Special master materials setup to control all the guns with easy to change add custom skin.
Any seamless texture and PBR material can be used as a skin of weapon and that texture can be scaled and rotated on weapons.
Channel packed Roughness|Metalness|Ambient Occlusion.
High quality and fidelity PBR texture set.
Number of Meshes:
Static Mesh: 62, skeletal mesh: 20.
Collision:
Yes, Auto generated.
Rigged:
(Yes)
Animation:
Total 50 gun anim (Charge, Slide, trigger and fire), Using FPP example template for character anim.
Vertex Count:
810 to 18K Tris
LODs:
(No)
Number of Materials and Material Instances:
100
Number of Textures:
250
Texture Resolutions:
512-4K
Supported Development Platforms:
Windows
Supported Target Build Platforms:
Window/Mac/PS4/Xbox