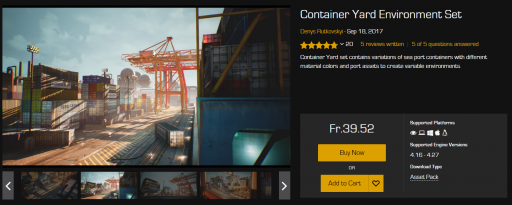 Sea port environment has container assets and material instances for different color setups. It's possible to create your own color sets for containers.
Pack contains assets to represent port style and atmosphere. There is number of decals including: leaking, crack and puddle decals.
The set contains 14 low poly chemical plant background asset to create good feeling of scale.
video:
https://www.youtube.com/watch?v=bVNYsS_NAYI
Technical Details​
Update 1.02 Fearures:
Added Day Lighting Level
added about 10 new meshes
updated/optimized collision for some meshes
updated LODs for some meshes for better optimization
Features:
• Set of high quality assets and textures
• AAA game quality
• Collision and LODs for assets
• Ground and Wall decals for visual polishing
• Material instancing for container colors
• Fully finished Port map
Texture Sizes:
Texture Size 2048x2048
Collision: Yes, manual and automatically generated
Vertex Count: 2-20000
LODs: Yes
Number of Meshes: 59
Number of Materials and Material Instances: 50
Number of Textures: 60
Documentation: -
Important/Additional Notes: -