Landscape Pro 3 -
Automatic Natural Environment Creation Tool
! HUGE ASSET PACK !
>>>
9GB OF DATA
<<<
Don't forget to rate when ur happy with it
​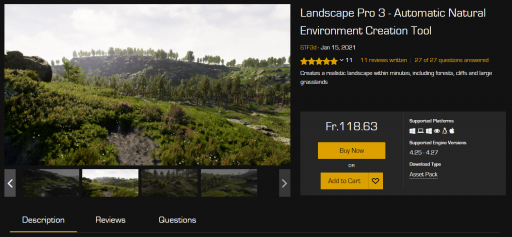 Hello Everyone,
this pack focuses on creating a breathtaking realistic landscape within minutes. It is designed to save indie and professional developers a lot of time so that they can concentrate on the essentials.
LandscapePro 3 combines more than 5 years of R&D for UE4 optimization and over 15 years in 3D-Art experience into one package to bring you and easy workflow for generate a realistic, beautiful looking and highly performant landscape.
The landscape material includes 6 layers with different vegetation and prop categories like stones and plants. Rock textures are automatically drawn onto the landscape without distortion.
This package also includes a PivotPainter2-based wind system for all plants. The wind strength can be changed with just one parameter for all objects.
The whole package is highly customizable. Extend the pack easily or replace the current content if you want to.
Use LandscapePro 3 and focus on creating video games, not just landscapes!
Technical Details​
Features:
Landscape Material with 6 different vegetations
Grass
Darker Grass
Dirt
Rock
Heather
Needle forest
Broadleaf forest
Automatic cliff placement
Wind System
Customizable
Number of Unique Meshes: 79
Collision: Yes
Most plants are using generated collisions and rocks per-poly.
Vertex Count:
Pines: 7000 - 12.500
Small-Pines: 500 - 1400
Broadleafs: 3000 - 21.000
Oaks: 33.000 - 38.000
Bushes: 1100 - 7500
Farn: 700 - 2600
Grass: 70 - 320
Heather: 150 - 260
Larg Burdock: 370 - 530
Nettles: 1400
Rocks: 1300 - 8400
Stones: 360
Senecio Ovatus: 530
LODs: Yes - included Billboards
Number of Materials and Material Instances:
4 Materials
153 Material Instances
Number of Textures: 287
Texture Resolutions:
4096x4096
8192x8192
Many low res textures for PivotPainter2
Supported Development Platforms:
Windows: Yes
Mac: Yes