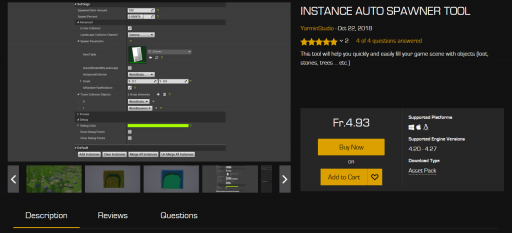 YarminStudio
- Check my other content
Discord
- Support and information about discounts
Overview video - Youtube
This tool will help you quickly
and
easily
fill your game scene with objects
(loot, stones, trees ... etc.)
Features:
100% Blueprints
Spline system to support complex shapes
works in the editor
is used "hierarchical instanced static mesh" with support LODs
simple collision support (Static Mesh Box Extended)
alignment on any surface
auto rotate on surface
random Yaw rotate
debug tools
combining and separating instances for convenient work with the tool and optimization
use of data table
sample mining included
an example of saving and loading after mining is included
Additional note:
Supports spawning only in editor.
When using the "Spline Tool", try to use simple shapes for better performance.
The spawner only supports convex polygons in shape.
Support:
https://discord.gg/BZV4Qh3
Technical Details​
Number of Blueprints: 12 Blueprints, 5 structs
Input: Mouse
Network Replicated: No
Supported Development Platforms: Windows, Mac, Linux
Supported Target Build Platforms: Windows, Mac, Linux
Documentation: in the preparation process, if you have any questions, please contact us at the discord
Loving it?
Rate it <3